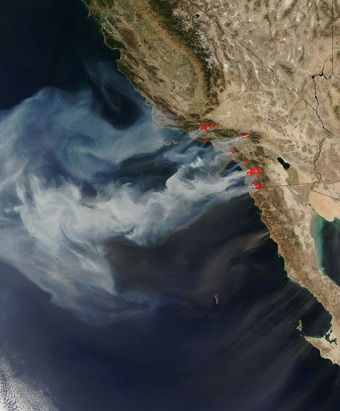 At least 14 fires, driven by dry, gale-force Santa Ana winds, have burned out of control across the drought-stricken southern half of California, charring an estimated 200,000 acres, killing at least two people and injuring a number of others, according to The Associated Press. The wildfires have reduced hundreds of Southern California homes to ashes and forced up to half of a million people to evacuate. NASA's Aqua satellite image shows the smoke billowing off the coast of California from the massive blazes, Monday afternoon, Oct. 22, 2007. Fire activity is outlined in red.
For those of you who are safe from the fire, please help out by donating sleeping bags, clothes, shoes, food, and water. There are 500,000 evacuees who have taken refuge in stadiums and shelters that need your help.
~Tina Jan~
Coldwell Banker Kivett-Teeters
1655 E. Sixth St.
Beaumont, CA 92223
Work: 951-845-5520 Ext. 105
Fax: 951-845-4916
Cell: 909-446-2666
Toll-Free: 1-877-TINAJAN
tina.jan@coldwellbanker.com
www.tinajan.com